Music has been an integral part of the Gardner experience ever since the Museum opened in 1903 with a celebration that featured a performance by members of the Boston Symphony Orchestra. The Sunday afternoon concert series dates back to 1927 and continues to this day as the longest running museum music program in America. 
Today, the Gardner Museum honors this musical legacy by welcoming world-renowned musicians and exciting emerging artists to perform classical masterpieces, contemporary pieces, and everything in between. 
Sunday Concert Series
The Sunday Concert Series features classical masterpieces, performed by celebrated icons and rising stars on Sunday afternoons. Experience the music you know and love, as if for the first time!
Thursday Evening Performances
Try something different! Never the same twice, the Gardner's Evening Performances feature contemporary and creative works of all genres in the Gardner's acoustically sublime Calderwood Hall.
The Gardner's "sonic cube" is a unique and intimate performance venue. Calderwood Hall holds 300 people, and the cubic design allows 80% of those seats to be front row. Three levels of glass-fronted balconies are one row deep and the performance "stage" is on the floor surrounded by two rows of seats. This unique design allows for an intimate connection between performer and audience and provides excellent acoustics. The space was a collaboration between the Gardner's former Abrams Curator of Music, Scott Nickrenz, award-winning Italian architect Renzo Piano, and Japanese acoustician Yasuhisa Toyota.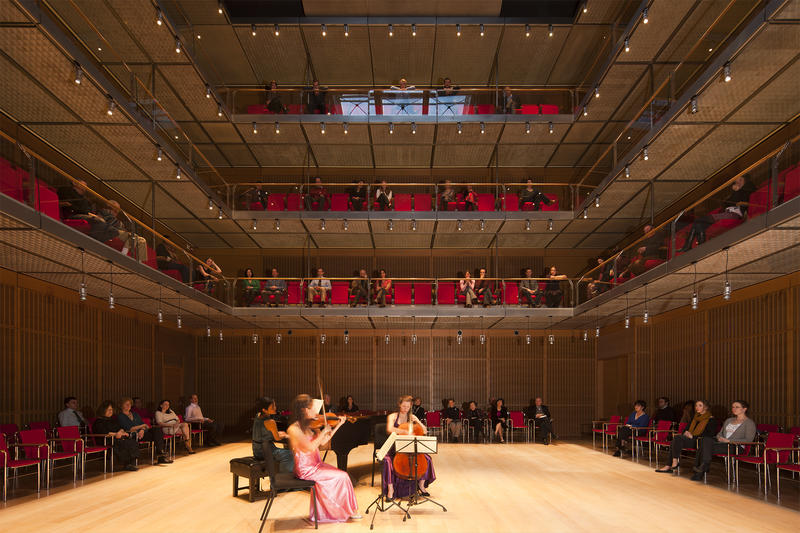 In January 2018, George Steel became the new Abrams Curator of Music, leading the Museum's renowned music program. Steel previously served as the Museum's Visiting Curator for Performing Arts since March 2017, designing invigorating, multi-disciplinary programming ranging from chamber music to dance, cabaret, theater, spoken word, poetry readings, Renaissance polyphony, and jazz pop-up events. In his expanded role, he is now responsible for all music programming and increased performing arts activity. His aim is to create and produce performances across genres to animate the Museum's historic and contemporary spaces, and to deepen the public's connection to the collection and exhibitions. Steel's work builds on Isabella Stewart Gardner's legacy and her vision of the Museum as a hotbed for creativity in all forms.